Launch of K2C Glossy Black-Cockatoo project
Date:
4 Mar 2013 - 11:00am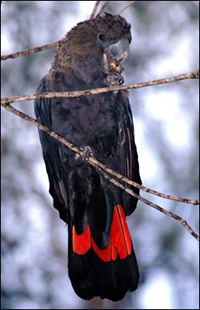 Qanbeyan Landcare has organised a launch of the K2C project that aims to provide increased food sources for the vulnerable Glossy Black-cockatoo in the region.
The launch will be held at 11.00 am on 4 March in the RB Smith Community Centre, 262 Crawford St, Queanbeyan, opposite the Queanbeyan City Council Chambers.
Attending will be the Hon John Barilaro, NSW Legislative Assembly member for Monaro and Mr Tim Overall, Mayor, Queanbeyan City Council.
Meet "Fifty", a captive-bred Glossy Black-cockatoo.
If you wish to attend, please RSVP to qbnlandcare@gmail.com or telephone 6297 5608.
This project has been assisted by the New South Wales Government through its Environmental Trust